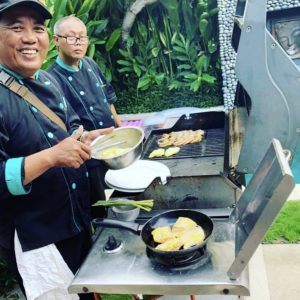 HAPPY BUDDHA WARUNG
Fancy a few drinks or a meal in your villa.
Then enjoy a freshly prepared meal in our Happy Buddha restaurant open from 7am to 10pm daily, located at the front of the Villa Besar Complex. Breakfast is included in the daily rate and is served from 7am to 10:30am daily with a great selection to choose from. Complement your breakfast with juice, coffee, tea, or a fruit platter.
Chef Nymon and his team at the Happy Buddha ensure that meals are prepared to high standards, serving fresh produce with a modern blend of western cuisine and some Asian classics. We have a Melbourne butcher located in Bali for all our meat and local suppliers of seafood and vegetables.
If you are celebrating a birthday or other special event, our chef can even customise a menu of your choice with a day or two's notice. Simply let us know your preferred dates along with how many are your party and meal preferences. Wait and bar staff are also available upon request for special occasions.
We will handle the rest and make the necessary arrangements.
Feel like having meals in your villa? Happy Buddha also supplies room service to all villas after breakfast until 10pm daily. Choose from a selection of Western food or dine on Indonesian cuisine. Many of our guests love having their meals in the central areas and by the pool.
If you feel like enjoying a few cocktails, beers or wine, simply pick up the phone and call the restaurant extension. We will have your favourite drinks sent right to your villa.
Chef Nymon changes his specials on a regular basis. If you have cravings for anything, just ask and he will try his best to accommodate. Our chef is also available for seafood barbecues and Indonesian feasts at an affordable price.
"We look forward to your visit."
  – Mike & Jenny