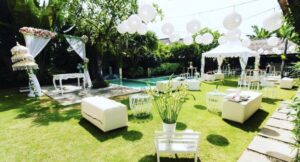 Bali Weddings
Have you ever dreamed of having your wedding in Bali
Bali is widely regarded as one of the most popular and affordable wedding destinations
We can accommodate weddings up to 60 guests and can all stay in one location in private villas if we have enough notice
At Villa Besar we can organise your special day or put you in touch with a wedding planner if you are wanting something particular
Couples who wish to celebrate their day in the privacy of a beautiful villa in Bali will find Villa Besar to be the perfect choice.
We handle all aspects of your wedding including
Catering: Our Balinese chefs can prepare an Indonesian Feast  including a wide selection of local produce and amazing seafood.  We can also organise a wedding cake of your choice.
Drinks: We can supply a barman and alcohol so everyone can enjoy their favourite drinks. Be sure to let us know if you have any preferences so we can make the necessary arrangements.
Decorations: We arrange all the decorations including setting up a marquee with tables and flowers. Lighting is also laid out to set the mood.Marquees safe option between nov and April
Entertainment: No wedding is complete without entertainment. We hire a DJ for your event to play all your favourite songs. If you have any special requests, be sure to let us know beforehand.
Ceremonies:  We can organise either civil or legal ceremony
Photographer:  We can organise a photographer to recapture  your special moments
Our friendly team will cater for all your needs leaving you with priceless memories. If there are any other additions you would like to see.
Retreat to your own villa after the wedding celebration to spend quality time with your partner.
Each of our villas are beautifully decorated with amenities to make the most of your stay from the large central room to the private pool and lush surroundings. We have one, two, three, four, five, and six bedroom villas available. Be sure to book early to secure your preferred dates.
We are confident you will enjoy your experience with Villa Besar.
ALTERNATIVELY YOU CAN ORGANISE YOUR OWN SPECIAL DAY.  THIS WILL INCUR AN $800 FUNCTION FEE WHICH ALSO COVERS FOR YOUR UPGRADED POWER, NOISE PERMITS & SOME STAFF HOURS
---